Loughborough based packaging specialist, Colton Packaging, has partnered with nationwide gift and confectionary firm, Treat Kitchen, to provide an 'out of this world' experience for delivery of the 'Best Alternative Egg' of 2023 – the Original Stormtrooper
Independent fifth generation family business, Colton Packaging, has once again joined forces with the creative confectioners at Treat Kitchen to deliver a unique customer experience through its sustainable, corrugated cardboard packaging.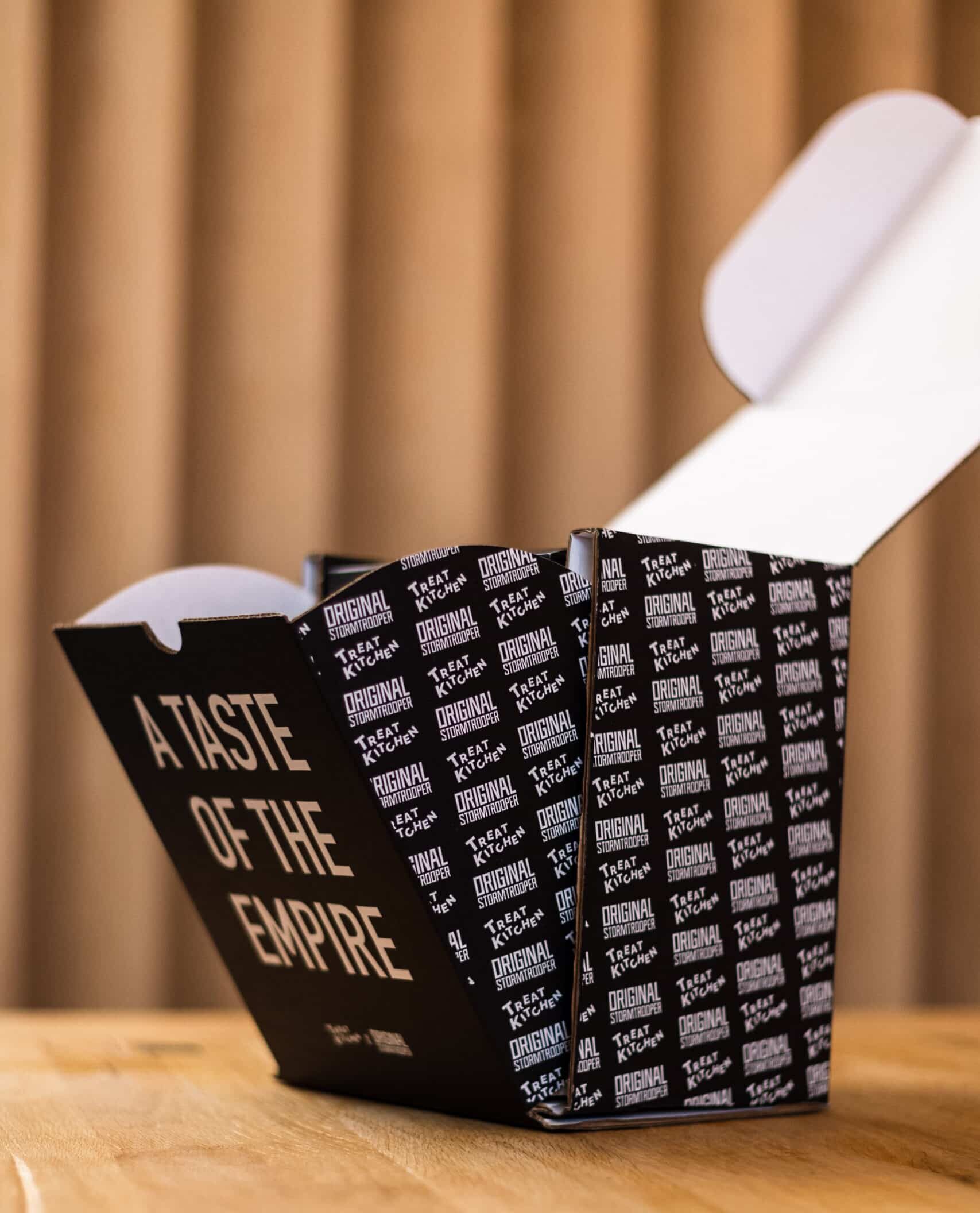 Treat Kitchen, specialising in sweets, chocolate and biscuit gifts created from trending flavours and prints, is exploring a move into licenced products as part of its overall growth strategy. Recently the team jumped at the chance to partner with The Original Stormtrooper to create a hollow chocolate version of the universally renowned Stormtrooper helmet.
Excited by the prospect of delivering a taste of iconic Sci-Fi to sweet-toothed film fans nationwide, the Treat Kitchen team challenged Colton Packaging to design a sustainable ecommerce box, that was secure enough to encase the legendary helmet during delivery, while being stylish enough to be a collectable item. In addition, they wanted to build in something a bit special that delivered wow factor when the product is revealed from its case.
Duncan Smith, Director at Colton Packaging, said: "Having had success with sustainable packaging for its glass jars and other sweet treats last year, we've built a great working relationship with the Treat Kitchen team and were thrilled that they trusted us with this latest project. Our in-house design team share their passion for all things Sci-fi and film, so this was a treat for us in more ways than one."
"We wanted to deliver an 'out of this world' customer experience, so designed the outer packaging around a traditional Easter Egg box, adapting it to unveil the helmet, giving it wow factor and a collectable feel."
Key features of the bespoke packaging solution include 100% recyclable corrugated cardboard box, which has been designed with consumer experience at its heart, as well as being practical for storage and delivery.
The monochrome finish delivers the instantly recognisable high-quality brand as well as a wow factor to the customer when opening packages at home. However, print and production costs for the Treat Kitchen are reduced with a single sided print and clever folding design.
Jess Barnett, Brand Director at Treat Kitchen said: "We think this is the best alternative Easter Egg of 2023. The shops are flooded with egg shaped Easter treats, we wanted to create something more exciting. What better silhouette than one of the most recognisable shapes in Sci-fi history, the Original Stormtrooper helmet?"
"Working with Colton Packaging, we've been able to bring this fantastic new product to life in a stylish and sustainable way, while still protecting the hollow head of the archetypal movie henchman. We're over the moon with the final design of the ecommerce box. It looks fantastic and really delivers a collectable feel that offers added wow factor for any film fan receiving it."
Other products are now in development under licence and the range is expected to expand to provide an all year-round gift experience.
Serious Sci-fi and film fans can find the chocolate Stormtrooper helmet this Easter on Treat Kitchen's website www.treatkitchen.co.uk or via the brand's TikTok shop @treatkitchengifting. It is also available for a limited time at selective retailers such as Boots, Sainsburys and Forbidden Planet.
For more information about Colton Packaging, its bespoke design capabilities and sustainable, shelf ready, transit and heavy-duty packaging visit: https://www.coltonpackaging.co.uk/.