We took time to

reflect on the first 12 months in

our

new stock and serve packaging facility in Loughborough

with a visit from

Family Business United
In May, we welcomed family business champion, Paul Andrews from Family Business United (FBU), to come and have a chat and a tour of our corrugated cardboard protective packaging facility as part of the annual Family Business Road Trip 2022. 
We moved to our new site in Hockey Close in Loughborough in April 2021 and the team spent time talking to the FBU founder about the work we've been doing to transform it, our business' heritage, values and what makes Colton stand out from other packaging businesses.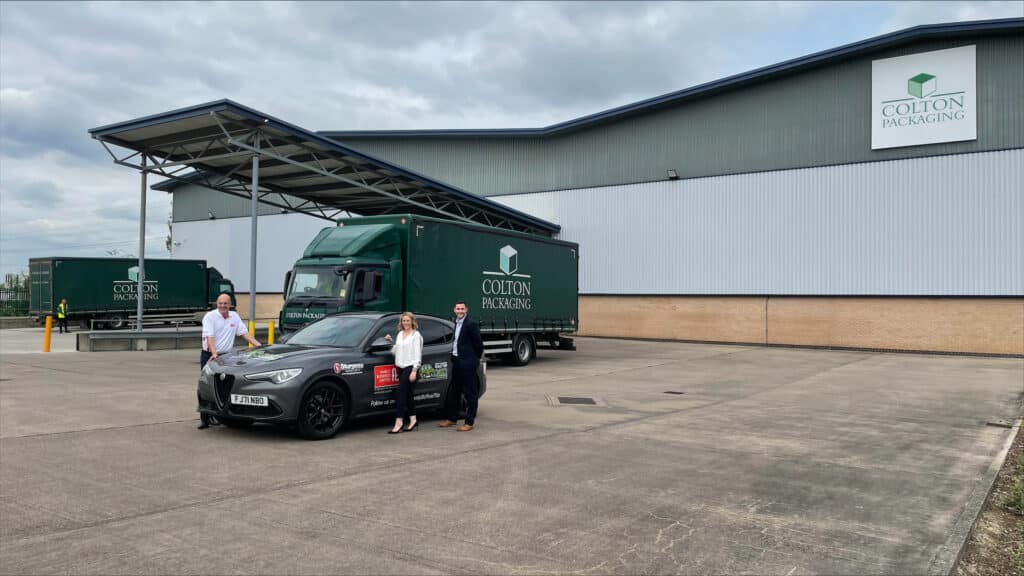 Managing Director, Laura Colton-Smith, shared her passion for the business, its heritage and how a culture of open communication and excellent customer service is at the heart of our operations.  
Commenting on the last 12 months, Laura said: "People are core to our business and one of the biggest reasons we made the move to our new facility. We've invested in a new 55,000 square foot space which has been completely transformed to create a light, open-plan office environment for our sales and in-house design teams, administrators and warehouse management that encourages communication and open dialogue."    
"We've also built in a communal kitchen area to give the whole team an area to spend time together. We actively encourage people to take time away from their workspaces to give them proper breaks during the day. We've transformed the warehouse into a bright and spacious environment. This enables us to provide our customers with just-in-time stock and the ability to fulfil all their packaging requirements." 
Paul Andrews, Founder and Managing Director of FBU, explains: "It is a great pleasure for us to be able to visit family firms in a variety of sectors, driving across the country in a sponsored car, meeting families in business, conducting factory tours and gaining behind the scenes insights into family business heritage and history, the challenges being faced and plans for the future.  
"We thrive on meeting the people and the families behind the businesses. Tours like this at Colton Packaging help bring out the real essence of family business, the stories, the pride and the passion." 
With a growing team, we made the bold move from our former headquarters at Sileby, after Laura Colton-Smith became managing director to take over from her father, Jonathan Colton, as he approaches retirement.  
Following a successful career, building and developing sales teams within the banking sector, Duncan Smith, Laura's husband, joined the family business as a Director in 2019. His aim is to bolster the sales function and establish a sales team to support the firm's future growth, by harnessing the existing team's collective experience in corrugated packaging which spans almost 100 years.  
Duncan added: "It's fantastic to be able to share our heritage and family story with FBU. Reflecting on our journey over the last year makes us realise just how much we've achieved through a challenging time. We've come a long way already and have much more we want to do with the business, our team, our product range and our customers. We're excited about what the future holds." 
Packaging has been at the heart of the Colton family since the mid-nineteenth century. The business is now in its fifth generation and each year its industry knowledge, product range and customer care have consistently grown. The team are in a great place to springboard their success for the next generations to come.  
Together Laura and Duncan and the team have the vision to grow Colton Packaging amongst a customer base which shares their ideals, value their bespoke packaging and personal, hands-on approach.  
The 2022 Family Business Road Trip is taking place from April 25 until the end of May and covering family businesses throughout every region in England. Follow the progress using the hashtag #FamilyBizRoadTrip.